---
The history of Czech perfume bottles
Spanning the years from silent to talking pictures, set designers combined historic reference with latest art trends and products, to create stylish surroundings for characters that would be emulated troughout the world.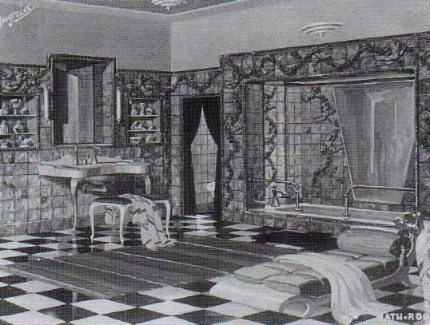 French and Bohemian crystal objects, some opaque and others with metal overlay, were seen as background in movies prior to 1920.Troughout the early 1920s, the accessories tended to be of Venetian and French manufacture, but in 1927, Czech glass reappeared in the form of architectural elements, lighting fixtures, perfume bottles and vanity pieces.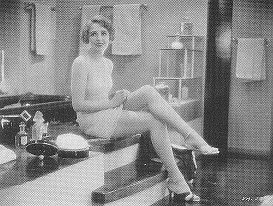 Although the majority of decorative Czech perfume bottles were manufactured to be sold empty, two applications of commercial usage arose in the 1920s. Just prior to the 1925 Decorative Arts Exhibition in Paris, a number of commercial perfumers began to commission specific designs to be produced for the general marketing of their fragrances. Earliest examples reflected the fluid art nouveau style of soft lines, acid etching and delicate surface staining. Soon after, lines hardened into geometrics, and colour was introduced into the glass, or a surface enamelling.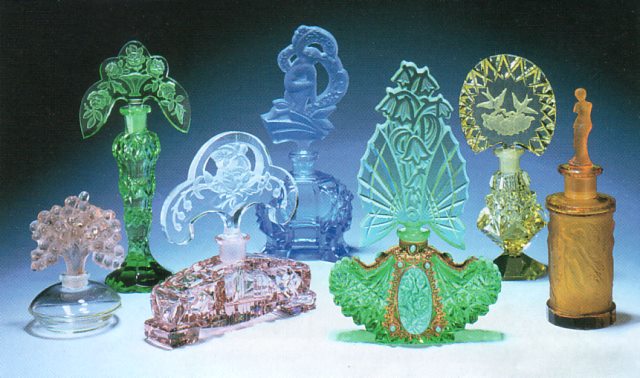 Unlike the large-stoppered bottles of the 1930s and 1940s- which were afforded by the average pocketbook at their one or two dollar cost- the commercially-used bottles filled with fragrance retailed from $25 to $200. By 1928, specially-ordered quantities of recognized models were purchased by exclusive retailers for limited deluxe packaging of their own fragrances.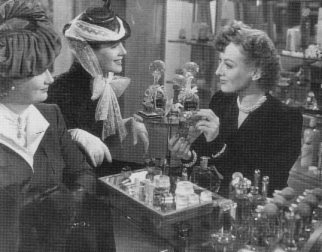 The elaborate new showroom of make-up artist Max Factor in Hollywood offered a wide range of Austrian-mounted Czech toilette garniture made of gold dore´ bronze heavily encrusted with glass jewels, as well as Max Factor perfumes in bottles designed by Heinrich Hoffmann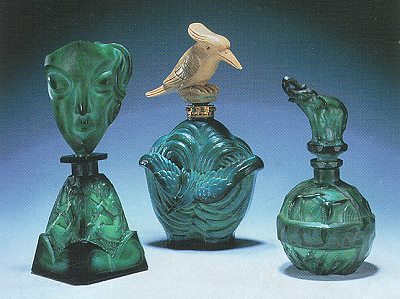 Hoffmann and Schlevogt. Heinrich Hoffmann (1875 - 1939 ) was prominent among glass makers at the luxury level of vanity glass production. He and colleague Henry Günther Schlevogt (1904 - 1984 )manufactured from their own designs, and those of famed contemporary artists. Hoffmann´s reputation as the specialist for articles made of jet black crystal was established in Paris just prior to the time of Lalique´s venture into glass.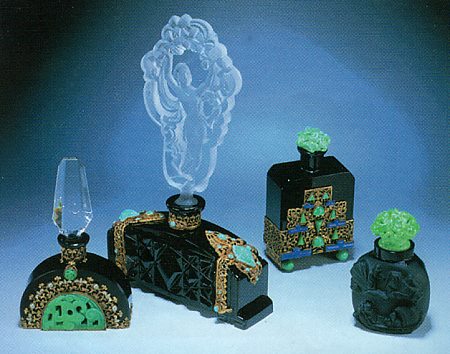 Hoffmann´s vanity pieces followed the Art Deco ethic in shape and subject, but echoed an Art Nouveau stylization late into the 1920s. Production was handled by various Czech contract factories and cottage finishers, with jeweled bronze mounting completed in Austria, and sales transacted in Paris. The realistic glass jewels manufactured in Gablonz are legendary and were used also in the thinner brass Czech mountings of the 1930s, as well as later in costume jewelry by names such as Chanel, Dior, Schiaparelli and Hattie Carnegie.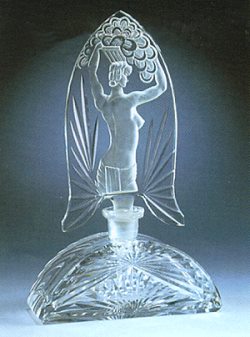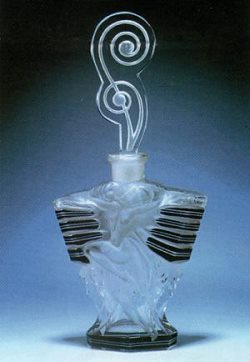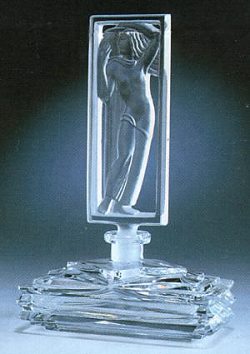 In 1933- three years after his departure from Hoffmann- Schlevogt perfected his stone glass with the help of Walter Riedel from Polaun. Using molds designed by Hoffmann and modern artists of renown, he found great success with what he named the Ingrid line ( which were named after his daughter Ingrid ), shown at domestic and international expositions from 1934 to 1939, winning the Grand Prix at the World´s Fair in Paris in 1937.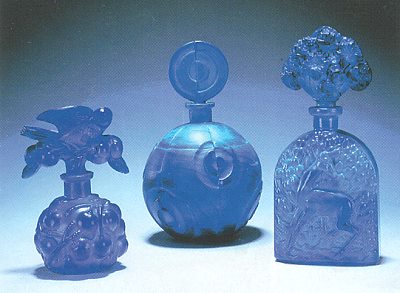 After the German occupation of Czechoslovakia in 1938, Schlevogt´s production was greatly reduced and exports to the U.S. ceased. When the Russians took over Czechoslovakia in 1944, Schlevogt´s business was confiscated and he remained incarcerated until 1948. From 1950 until his death, he ran a wholesale business on the Rue de Paradis in Paris, handling quality crystal made by other major designers.